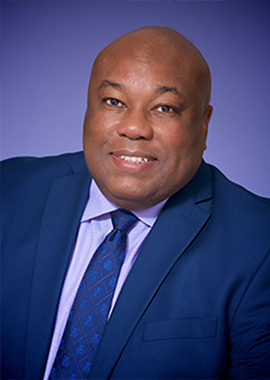 Shaun M. Davis is Founder and Managing Partner at S. Davis and Associates, P.A.. Backed by nearly two decades of experience in public accounting, auditing, tax and consulting services, Davis oversees all aspects of the firm's business. He has worked with clients in a range of areas including non-profit, real estate, public utilities, employee benefit plans and banking.
Prior to launching his own firm in 1991, Davis was an audit manager at Ernst & Young, one of the world's largest accounting firms. He started his accounting career with Deloitte and Touche and holds a degree in accounting from Florida State University.
Davis has grown his once one-man accounting firm to more than 22 employees in three Florida office locations. The successful growth of the firm helped Davis expand the range of services offered to include auditing, business consulting and other special services. S. Davis & Associates, P.A. is now proudly recognized as one of the top three minority CPA firms in the southeastern United States, and one of the top ten minority businesses in the state of Florida. Davis has, in turn, become nationally known as a CPA.
Davis has a rich history of involvement with educational, social and other community-based organizations. He has provided advice and counseling to numerous Black students interested in entering the accounting field and has participated in and/or held seminars and training sessions for minorities seeking advice on starting new businesses. Davis' success as a business owner and community leader has provided him with an invaluable opportunity to give back and serve others.Community involvement
Past Chairman, United Way of Broward County
Past President, Hollywood Chamber of Commerce
Financial and Audit Committee Chairman, Girl Scouts of Tropical South Florida
Volunteer Career Counselor, School Board of Broward County
Advisory Council Member, Florida State University School of Accounting
Business and professional affiliations
Co-Chairman, Vision BROWARD
Board Member and Past Chairman, State of Florida Board of Accountancy
Member, Broward Workshop
Member, Dade/Broward Government Finance Officers and City Clerks Association
Member, American Institute of Certified Public Accountants (AICPA)
Member, Florida Institute of Certified Public Accountants (FICPA)
Member, New York State Society of Certified Public Accountants (NYSSCPA)
Member and Past President, Greater Miami Chapter of the National Association of Black Accountants
Leadership Miami Alumnus
Member, South Florida Super bowl Host Committee XLI
Member, Orange Bowl Committee