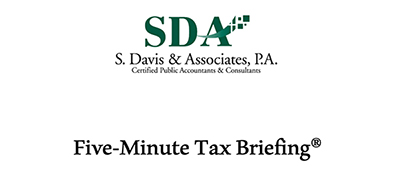 Extension Allowed for Providing Certain Health Coverage Forms to Individuals:
The IRS has announced an automatic extension of the due date for providing 2019 health coverage information reporting forms to individuals. Insurers, self-insuring employers, certain other coverage providers, and applicable large employers will now have until 3/2/20, rather than 1/31/20, to issue 2019 Form 1095-B (Health Coverage) and 1095-C (Employer-Provided Health Insurance Offer and Coverage) to individuals.
IRS Cracks Down on Abusive Syndicated Conservation Easements:
The IRS has announced that it will significantly increase enforcement actions related to abusive syndicated conservation easements. According to the agency, coordinated examinations are being conducted across the Small Business and Self-Employed Division, the Large Business and International Division, and the Tax Exempt and Government Entities Division.
2020 Inflation-adjusted Amounts:
The IRS has released the inflation-adjusted tax amounts for 2020, including the tax rate tables for estates, trusts, and different individual filing statuses; basic and additional standard deduction amounts; AMT exemption amounts; kiddie tax figures, including the AMT exemption for a child subject to the kiddie tax; student loan interest deduction phaseouts; earned income tax credit figures; education credit amounts and phaseouts; qualified transportation fringe benefit exclusion limit; unified estate and gift tax exclusion amount; gift tax annual exclusion; qualified business income deduction wage/investment limit exemption and specified service trade or business exclusion phase-in thresholds; and certain failure to file penalties. News Release IR 2019-180 and Rev. Proc. 2019-44 .
Final Regulations Remove Debt versus Equity Documentation Requirements:
The IRS has issued final regulations that remove the documentation requirements under Reg. 1.385-2 that determined whether certain related party interests in a corporation should be treated as debt or equity. The final regulations adopt without change regulations proposed in September 2018. According to the IRS, the burdens imposed by the documentation requirements outweighed the regulations' intended benefits.
2020 FICA Coverage Thresholds for Domestic Employees and Election Workers:
For 2020, the Social Security Administration (SSA) has announced that cash wages paid by an employer for domestic service in the employer's private household is subject to FICA tax (often referred to as the nanny tax) if the amount of wages paid during the year is more than $2,200. (This threshold applies separately to each household employee.) This is up from $2,100 for 2019. In addition, the FICA coverage threshold for election workers has increased from $1,800 (for 2019) to $1,900. For more information, see www.ssa.gov/OACT/COLA/CovThresh.html
Business Travel Per Diem Rates:
The IRS has released the 2019–2020 per diem rates for substantiating employee business expenses under IRC Sec. 274(d) for lodging, meals, and incidental expenses incurred while traveling away from home. The Meal and Incidental Expense (M&IE) rates for the transportation industry remain at $66 for travel in the continental U.S. and $71 for travel outside the continental U.S.
Automatic Consent Procedures for Income Inclusion Changes:
Recently, the IRS issued Prop. Reg. 1.451-3, which provides that the all events test for recognizing income under the accrual method of accounting is generally met no later than when it's recognized on the taxpayer's Applicable Financial Statement (AFS). The IRS also released Prop. Reg. 1.451-8, which allows accrual method taxpayers to elect to defer a portion of the income associated with certain advance payments.
Extended Temporary Relief for Closed Defined Benefit Plans:
In a Notice, the IRS has given another year of relief to certain closed defined benefit pension plans (i.e., defined benefit plans providing ongoing accruals that have been amended to limit those accruals to some or all of the employees who participated in the plan on a specific date). Eligible employers that sponsor a closed defined benefit plan and a defined contribution plan can comply with the nondiscrimination requirements of IRC Sec. 401(a)(4) on the basis of equivalent benefits even if the combined plans don't satisfy the current conditions for testing on that basis.
Automatic Waiver of Estimated Tax Penalty for Eligible 2018 Filers:
Earlier this year, the IRS expanded the Section 6654 penalty waiver to individuals whose total withholding and estimated tax payments equaled or exceeded 80% of the tax shown on their 2018 returns. (The usual percentage threshold is 90%.) Recently, the IRS announced that it will automatically apply this waiver to the more than 400,000 eligible taxpayers who already filed their 2018 returns but failed to claim the waiver.
District Court Invalidates IRS's Elimination of Donor Information Reporting:
In Rev. Proc. 2018-38, the IRS announced that tax-exempt organizations, other than those described in IRC Sec. 501(c)(3) , no longer have to report donor information on Schedule B (Schedule of Contributors) of Form 990 , Form 990-EZ, and Form 990-PF. Recently, a Montana District Court held that Rev. Proc. 2018-38 was unlawful because the IRS failed to follow the notice-andcomment procedures under the Administrative Procedure Act (APA).
ACA Premium Tax Credit Indexed Adjustments for 2020:
In a Revenue Procedure, the IRS has released the indexed applicable percentage table to be used in calculating an individual's premium tax credit under IRC Sec. 36B for tax years beginning in 2020. The Revenue Procedure also provides that the Section 36B required contribution percentage, which is used to determine whether an employee's share of the cost of employer-sponsored coverage is affordable, is 9.78% for plan years beginning in 2020 (down from 9.86% for 2019).
Final Regulations Allow Truncated Social Security Numbers on Form W-2:
The IRS has issued final regulations (TD 9861) that permit employers to voluntarily truncate Social Security Numbers (SSNs) on copies of Form W-2 (Wage and Tax Statement) furnished to employees. An SSN may appear in the form of a Truncated Taxpayer Identification Number (TTIN), which replaces the first five digits of the SSN with Xs or asterisks. However, the final rules do not allow truncation on any return, statement, or other document that is required to be filed with the Social Security Administration (SSA).